Data Driven SEM Advertising - Search Engine Marketing (PPC)
You've got a great website - but are you attracting all of the customers that you can?
People search every day on the search engines - over 1 billion searches a month! Its not possible to show up for every search result naturally, but it's important to show up when it counts. With SEM Advertising, you can grab your customer's attention and stay at the top of their search results.
Your customers are searching for your products and services, but are you there for them to find you on the search engines?
Marketing on the search engines can be very confusing. It's important to know what terms you want to show for up search results. That's where we come in. We have experience setting up SEM Advertising campaigns that work within your budget. We will monitor and improve your SEM Advertising campaign every step of the way to increase your potential customers on your website.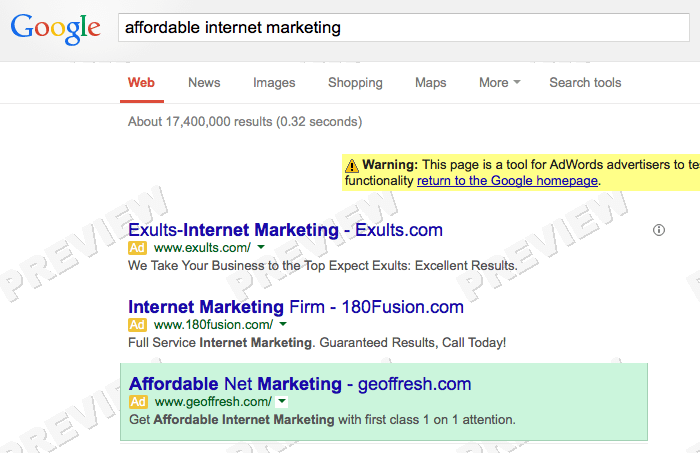 Data Driven SEM Advertising Example
Only Show Up For The People Who Are Searching For What You Offer.
Our SEM Advertising campaigns are only targeting people who can reach your business and who are searching for your products and services. These are customers who have a need and are doing research already. They just need to find you.
Get Customers Efficiently
It's not possible to show up for all brand terms unless you have an unlimited budget. We work within your budget and get you the most customers to your website for the lowest cost we can. We set up Cost-per-click metrics where we drive as many potential clients to your website, or if you want them to complete an action (such as send a mail to your customer service team). We can provide your website design team with code to track the best performing ads.
Advertise Only When You Need To
The SEM Advertising service is a perfect way to help increase awareness when you have a sale or a promotion going on for your product or service. These campaigns can be turned on and off as you need them. There is no need to keep the service running for an entire month when your promotion only lasts for 2 weeks. We will work with your website design team to ensure that we are sending them to your promotion webpages. We do recommend keeping a regular advertising campaign online to keep potential customers coming as well during non-promotion periods.
With our SEM Advertising service, your business gets the following benefits.
Increased potential customers visiting your website.

They are already searching for your products and services and now you show up for them

Expertly designed advertising campaigns built to drive customers to your website
Ads placed on the search engines to entice visitors to your products and services
Our campaigns are designed around keywords relevant to your products and services
Monthly reports on how efficient your advertising campaign is.
Adverstise on Social Media
SEM (Search Engine Marketing) or PPC as some say, does not only apply to the search engines! Social Media has become their own search engines of sorts and we are able to use the vast amounts of data on them to target the proper audience.
With social media ads you get the following:
Set up your social (Facebook & Twitter) business advertising profiles

Develop and manage social media ad campaign

Monthly reports to show progress

We can work with your web design team to send tracking code to them to install on your website to track conversions

Social Media Marketing Ads grant you:
Increased Visibility on Social Platforms

Target users who are likely to follow your brand