Ideas for How To Improve Your Website With Digital Spring Cleaning Tips
Cleaning up your website for many reasons is the biggest part of your digital spring cleaning efforts. It's your business' digital headquarters, its homebase online. But more importantly it's also the vehicle that can take your business far—and for that main reason, cleaning up a website is actually most similar to auto repair.
Your own website should be regularly cleaned up from an SEO and management perspective. It not only helps your own resources in terms of server space savings, but also for your internal team who can more easily track down the files they need to edit or change.
We advise our clients on how to rejuvenate their online presence in all the digital spaces they occupy at least once a year. And the only place on the internet that you have the utmost control over over your digital presence is your website. 
If your website is on a content management system (CMS), it's important to do an audit of your current components, modules, and plugins. There are three sections you should consider when auditing them:
Unpublished or Disabled Components
Component Updates
Use Case Audit
SEO Health Check
Unpublished or disabled website components
While working on your website, you may find that you or your developer had left some components, articles, or plugins disabled. While these are not harming your website, it makes it more difficult to find what you are looking for when you do need to make edits. If you no longer need that module or plugin, it's time to remove it. If you need it again in the future, you can always re-install or redownload a newer version from the developer.
Component updates
It's important to ensure that not only is your website content up to date, but the components, plugins, and modules are also. Much of the time, these updates provide code optimization for better website performance, new or improved functionality, or security updates. It's important to check in from time to time to see if there are any available updates. All websites hosted on Geoffresh servers keep their components, modules, and plugins updated with roll-back capability.
Use Case Audit
While reviewing your components, also keep in mind how often they are used. If there is something that is rarely used, or could also be covered off by another component, you may wish to remove it. If a developer has dropped support for that component or the direction of your website has changed, it would be a great opportunity to explore another component or plugin, or to remove it completely. 
Protect Yourself, Your Data, and Your Business
Just like the forgotten corners of your car, it's easy to neglect certain parts of your website. Devoting a few minutes to your website each day can keep you safe throughout the year. Make a habit of checking if:
there are any users who have access to its backend who need to be deleted.
sensitive information in files or on webpages are secured. 
accounts have been compromised or if passwords need to be reset.
Comprehensive cybersecurity doesn't come easy, but in this digitally driven day and age, it's more important than ever. 
SEO Health Check
And finally, don't forget to check your website for possible SEO issues. Your SEO strategy may need a refresh if your business has opened up another avenue or describes itself in a different way. It's important to review your webpages and check their SEO to see if everything is still in-line with what's working for your business.
Now that you know how to go about maintaining and refreshing your online presence, we challenge you to make an annual commitment to audit your digital content, identify areas for improvement, get organized, and revamp your overall strategy when it makes sense.
As you conduct your spring cleaning, what stays and what goes? We'd love it if you'd share your best tips and ideas on Facebook or Twitter.
And here's something for you to pin as a helping visual as you go about your digital spring cleaning.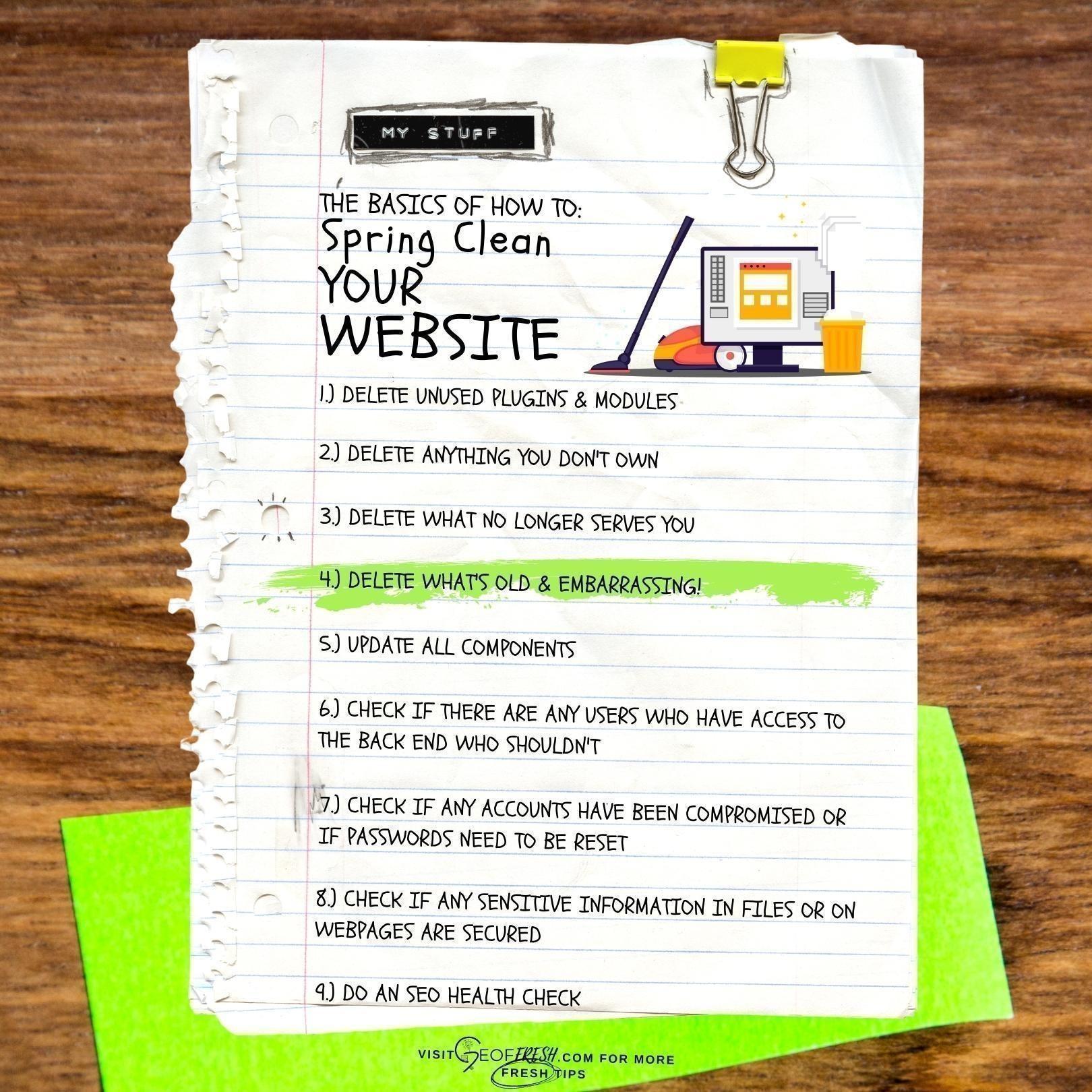 ---
FROM MAY
How To Clean Up Your Online Presence For Your Business — How To Start
These are easy ways of keeping house for your business, so that things don't get so far out of control that you would need to pay a huge bill to a company to deep clean your online presence.
FROM JUNE
Tips on Digital Spring Cleaning Social Media For Small Businesses
Your approach with cleaning up your social media is akin to gardening. The reason I like to describe it like that is because social media posts are like flowers—some are evergreen, some turn out to be invasive, and others need to be repotted.
---
If you're looking to spruce up and secure online accounts and digital identities, Geoffresh can help get you started. Contact us so we can assist with your spring cleaning safely and securely.