A Review of Highlights from this year's Discover Tinley Park Expo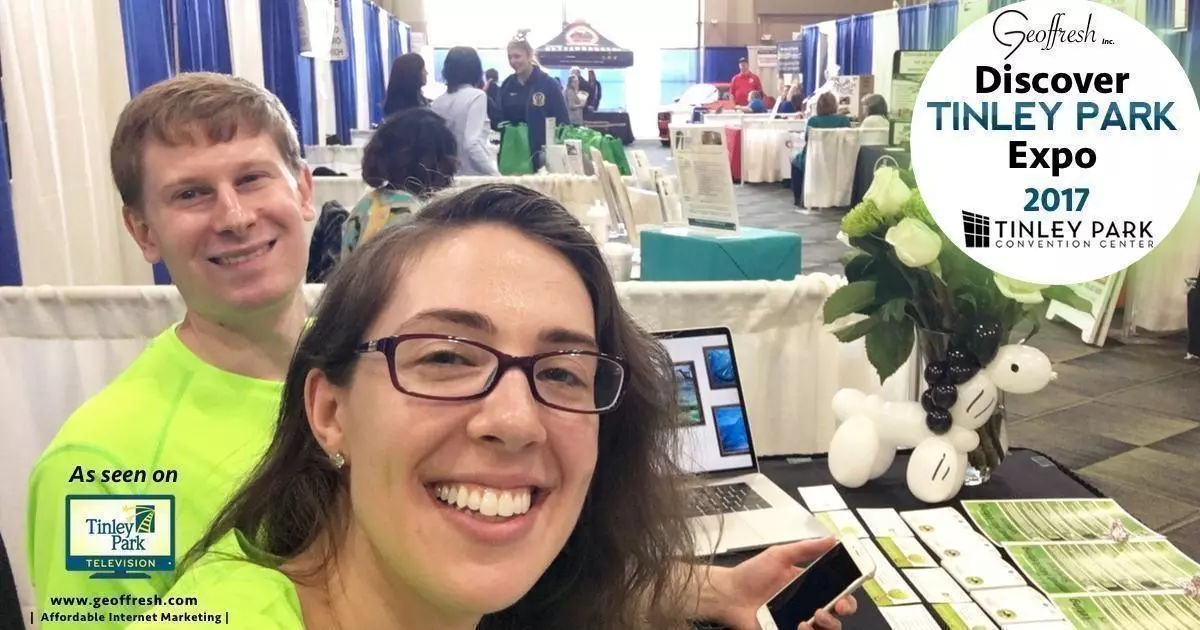 Saturday, April 8th was the annual Discover Tinley Park Expo, a trade show of sorts that gives local businesses and organizations an opportunity to reach people they might not always reach with traditional and digital promotion.
As internet marketers it's especially important for us to participate in offline events like Discover Tinley because so much of what we do is online. We met our fair share of late adopters and people who don't like how digital the world's become, but what they didn't know about us is how important the human element is to our approach to helping businesses. We're very social by nature so we loved getting a chance to meet new people and spark conversations. 
Stolen Balloon Animal
My favorite part was finding an abandoned balloon animal that looked like our puppy Samantha (you know her as Sammie of course). I put the balloon animal right on our booth next to the vase of fresh flowers I picked up for the expo, and it became a stand in for her. Sammie has become so associated with the Geoffresh brand that people asked about her and it felt like we were missing a key member of our team. She would've helped us break the ice on more than one occasion for sure. 
Look who we found! ?Wish we could've brought Sammie to #DiscoveryTinley, but we'll do our best with the #balloonanimal replica of her. #dog pic.twitter.com/NmD7zHnYzb

— Geoffresh (@Geoffresh) April 8, 2017
Storm Trooper Selfie
The next best moment was when a Star Wars storm trooper came walking around and he came up to us. It was actually pretty intimidating. Since Rogue One recently was released on iTunes and DVD we thought maybe the storm trooper made a mistake and was supposed to be at another convention location. He let us take a selfie and then he went on his storm trooper way. It was random, but it was a lot of fun. It's not every day you get a picture taken with a storm trooper after all. 
#DiscoverTinley let a storm trooper in. We think he got lost on the way to a #StarWars #ComicCon. pic.twitter.com/HKDeplWcQg

— Geoffresh (@Geoffresh) April 8, 2017
Goofing Around and Getting to Know Each Other
I'll never forget when a neighboring booth started throwing the light balls they had bought as a giveaway to people who came to their booth. Everyone starting laughing and started walking over to talk with one another during the lull. The reason it had gotten so quiet at the end of the expo was because it was such a sunny and warm day outside. Last year we remember it being brutally cold and stormy, but totally packed with people. A great example of how weather can play a role in attendance. 
Expos Attract Good People
Geoffresh has been in business almost ten years this May you'd never guess that this was actually our first year at Discover Tinley. Since our ten year anniversary is around the corner, we wanted to try something new to get potential new business and build awareness about Geoffresh. The funny thing was it never felt like work. You can't say that about many expos and convention venues. We genuinely had fun because
a) we love what we do
b) we're people persons
c) we were surrounded by great company
All the vendors there were a lot of fun. There was this instant camaraderie that naturally happened. It was really something to see, businesses that were so different finding commonalities and helping each other out like they'd known each other for years. That's why we love working out in the suburbs, community is on another level. Building relationships based on wanting to see the other do well is more common than you'd think at an expo, and you'll find that most of the people that expos attract are looking to make their communities a better place. 
So those were the highlights from Discover Tinley for us here at Geoffresh. We definitely recommend Discover Tinley if you're looking to build awareness for your business and make new connections with fellow business owners in and around Tinley Park.
Our tip for giveaways? Invest in something that reflects your brand's personality and will leave a lasting impression in a unique way. In our case we took inspiration from Romy and Michelle's High School Reunion and designed custom post-its to stay top of mind.