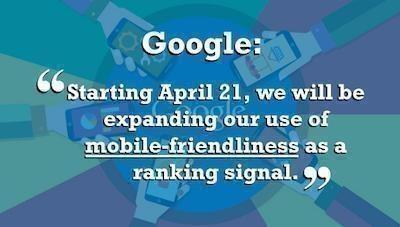 Google will be upping the requirements for a well designed website, effecting site ranking in search results.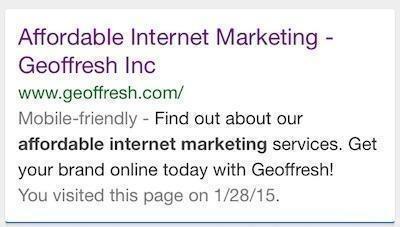 Related Articles
What's Missing in Digital Communication Today
Digital Communication Today Where have you heard these before? "This is a very complicated world, it's a very noisy world." "We live in an...
What Does It Mean To Be Data Driven?
Why Are We A Data Driven Digital Marketing Agency? Data has always been a driving force here at Geoffresh. To us being data driven means taking...
On April 21 of 2015, if your website is not optimized for mobile and is not designed with responsiveness in mind, prepare to see a drop in your organic rank and most likely your organic traffic.
Regardless of this change, being mobile optimized is important for attracting new customers or clients to your small business. We've been saying this for a while. As we noted in a previous article, there are multiple ways to achieve a mobile friendly website. You could have a seperate website completely (EX: m.example.com),  or use a mobile template where a user will be served a different version of the same website when visiting it on a mobile device, or use responsive design. The last one is what Geoffresh Inc. uses to design websites with our Data Driven SEO Website Design service. 
If your website does not have the Mobile-Friendly tag in search results, that means your website is not mobile optimized.
To benefit from the mobile update, your website must use responsive design.
So why the concern? Isn't this just a standard algorithm change that will only boost you if you are using this? Not any longer. For too long, websites have been only designed for desktop or mobile. Now when creating a website you must keep both mobile, tablet, and desktop user experiences in mind. We have found the best way to do that is with responsive design and Google agrees with us. This update is bigger than the others because there will be significant changes in website ranks for those without the responsive mobile friendly webpages. 
What we currently know about the Mobile Friendly Update:
The update will arrive on April 21, 2015.
This algorithm will update results in real time - If you make your web page responsive mobile friendly anytime that meets with requirements, your search result will get the mobile friendly tag.
The tags will appear on PAGE LEVEL - meaning your individual pages will be graded and not the entire domain. So try to make all of your landing pages mobile friendly.
Steps to take to ensure that your website is ready for the Google update.
Get your website ready for the Google Algorithm change before April 21,2015.
Related Articles
Geoffresh Walks In 2017 Tinley Park Holiday Parade
2017 Tinley Park Holiday Parade of Lights December 3rd, 2017 the twentieth Annual Tinley Park Holiday Parade of Lights took place. The culmination...
How to Do SEO Keyword Research
How to Do SEO Keyword Research That Gets Your Content Found Online  This article was originally published in PR News' first volume of Google for...