Mobile Friendly Websites are up for receiving a rankings boost from the search engines 
You got it! For those who have been diligent in their website maintenance and upgrades, your hard work will pay off again. Of course, you know what I'm talking about - Mobile Optimization!
Time after time of talking to clients and getting their websites mobile optimized, they will now see the benefit not only in user experience, but also soon a boost in rankings.
What is mobile optimization?
Before we get to good stuff, let's take a step back and talk about what mobile optimization is. The basic idea behind mobile optimization is a website that can be seen and used well on mobile devices such as an iPhone. There are three different ways that your site can be mobile optimized.
Responsive design - The web page changes based on the viewer's device. They will receive a webpage sized based on their device's screen. This can change instantly and does not require additional pages or code to be added. This works very well for tablets as well.
Mobile Served Content - The web server detects what sort of device the user has and then serves up a special "mobile template" of the site. The content is the same as the desktop version of the site, but a special template is called when mobile devices are detected. This does not work well when tablets are detected.
Mobile website - This is a completely separate website from the desktop. You must duplicate all of your content and send it both to the desktop and the m.example.com versions of your website. This can be very difficult as you must ensure to place tags on the site to stop the search engines from detecting duplicate content. The web server would detect what device is viewing it and direct the browser to the correct version of the site.
How can I tell if my website is mobile optimized?
One of the search engines - Google - has released a tool to help see how well your site mobile optimized. You might already be all set and ready, but a quick test to see if you are implementing any mobile technology would be to visit your website on your phone. Does it look good? Is it easy to navigate and read or interact with the content? If not, work must be done.
Benefits of Mobile Optimization
Now for the good stuff! The first and possibly the biggest benefit of having a mobile optimized website is for the user experience. Users are visiting sites more and more on mobile and tablet devices. If it is more difficult to see and interact with content, they will lose interest and leave the site in favor of another - more well designed - site. Even if it is not on the first page of the search engines.
The other reason would be the upcoming rankings boost. For all of your good work in making sure that your visitors are getting the best experience possible, the search engines are rewarding you with a rankings boost. Since more and more searches are happening on mobile devices, it's only natural that the engines would want to send their searchers to more well designed and mobile friendly sites. It benefits you - it benefits them. Win-win!
Here is an example of a boosted ranking with "mobile friendly" added to the search result.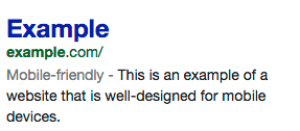 Image courtesy of
Google Webmaster Blog.
How can I get my website mobile optimized?
That's the best part! If you sign up for our SEO web design services, you already get a site that is mobile optimized! We use the top option - responsive design so you don't have to worry about getting two types of websites created or even a special template made for you mobile users. Everything stays in one really amazing website! How do you get started or have a few questions? Contact us to get started on your mobile website today!