Case Study:
SEO Web Design vs. Pretty Web Design
The Cost Of Going With What Looks Good vs. What Performs
March 2020
When it comes down to web design, some companies prefer to have a great looking website over having an SEO website (translation: search engine optimized website). In this case study, we look at what happens when a company switches their strategy from SEO web design to only a "looks forward" and flashy website design.
Although SEO web design may not look as "flashy" as a simple pretty web design, it can have massive positive impacts on your businesses online presence. 
Many companies struggle with trying to look as flashy as possible, but without considering the unintended effects of dismissing other aspects of building an excellent website. Your website can be very eye appealing at first glance, the most beautiful website ever, however, without a clear SEO strategy, proper analysis of user experience, and consistent updates—your website will underperform.

The above shows the traffic data from one business who switched from SEO Web Design to a simply pretty website. 
What Is The Difference Between SEO Web Design And Pretty Web Design?
Simply put, SEO Web Design focuses on SEO and User Experience (UX) first before trying to look as flashy as possible. This is not to say that an SEO website has to look bland or unappealing, but it does mean that it focuses on the users who will buy your products or services first and the search engines spiders before trying to look great. For example, you might want to have a brief video at the top of your homepage that shows off your impressive building. An SEO website would have a video that is appropriately sized so that the homepage loadtime is not too long. A website that ignores SEO web design will result in a homepage that takes longer to load, thereby impacting the user experience and their search status. In most cases, a flashy website will not perform as well as a website with SEO built in from the ground up. SEO Web Design also has a move forward plan with how to keep moving up the ranks with a content strategy plan. 
Performance Before Moving Away From SEO Web Design
Looking at a four month period previous to the transition, the performance was stable with a slight up turn in users. This was due to a doctor linking to the business's website and a pillar article gaining traction on the search engines and delivering a great amount of traffic. There were ebbs and flows with the volume of visitors, however, their performance was improving year over year. 
Performance After Moving Away From SEO Web Design
After the business changed strategy, they had decided to completely redesign their website from scratch. With this, they changed many of the body items in their website away from the best practices of SEO (or in some cases, left them blank) and went in favor of a heavy (large webpages) auto-playing video website. After the transition, they had lost the ranking on specific high performance pages that were deeper in the website. In addition, they lost the ranking for the industry they are in: eye surgery. They had also greatly reduced the amount of pages on their website which resulted in many 404 pages being generated. This caused a drop in search visibility as people would bounce from the website.  
Website Performance Comparison 
Looking at the pre and post transition performance, we can see a stark difference in the performance. The orange line shows the performance of the SEO Web Design, while the blue line shows the performance of the flashy web design. There is a clear upward trend with the SEO web design (orange) while there is a clear downward trend with the flashy web design (blue).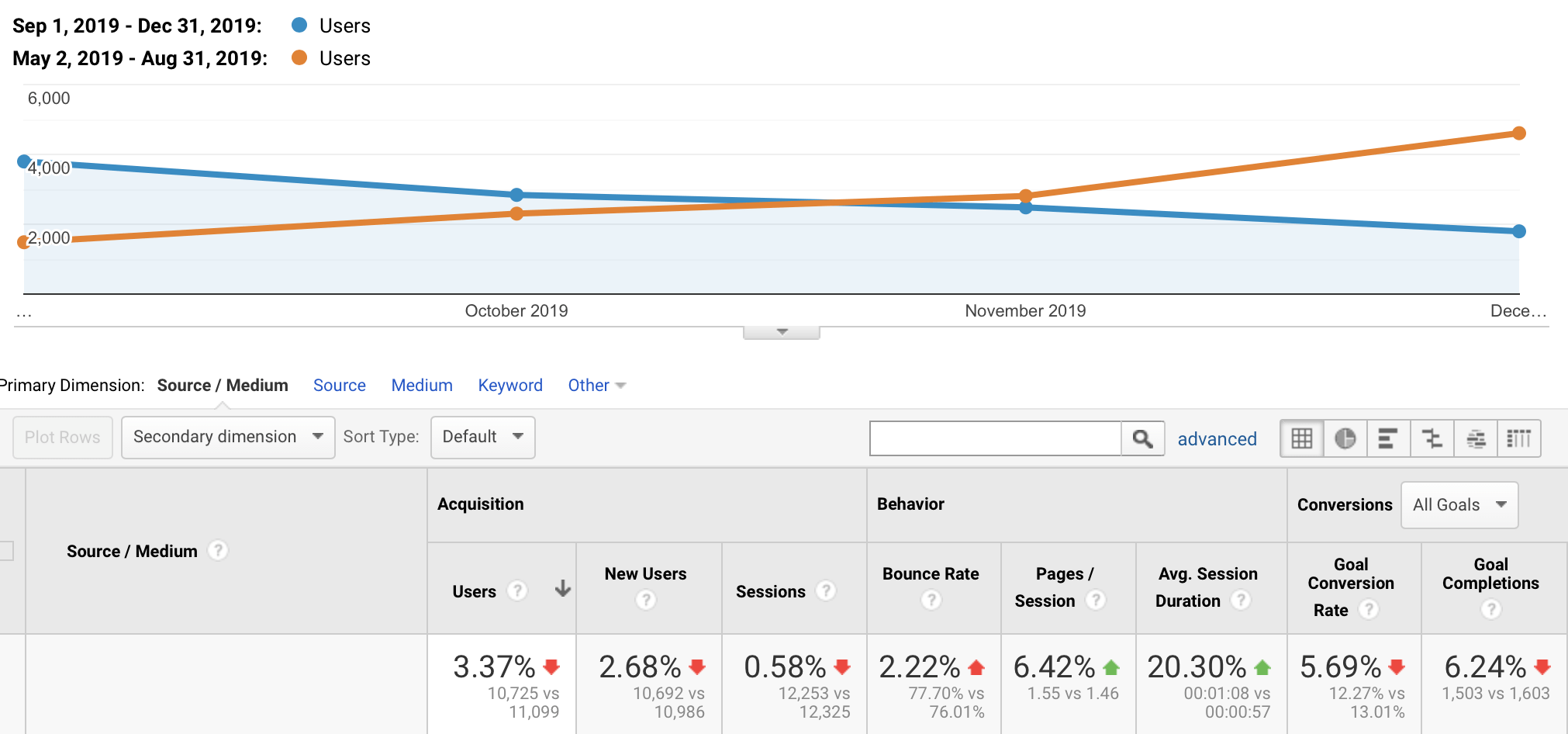 Looking at year over year performance we can see that although this business does see a drop in performance during Q4, the previous version of the website was still delivering more traffic and more qualified traffic that was completing goals on their website (contacting them /calling them/interacting with them)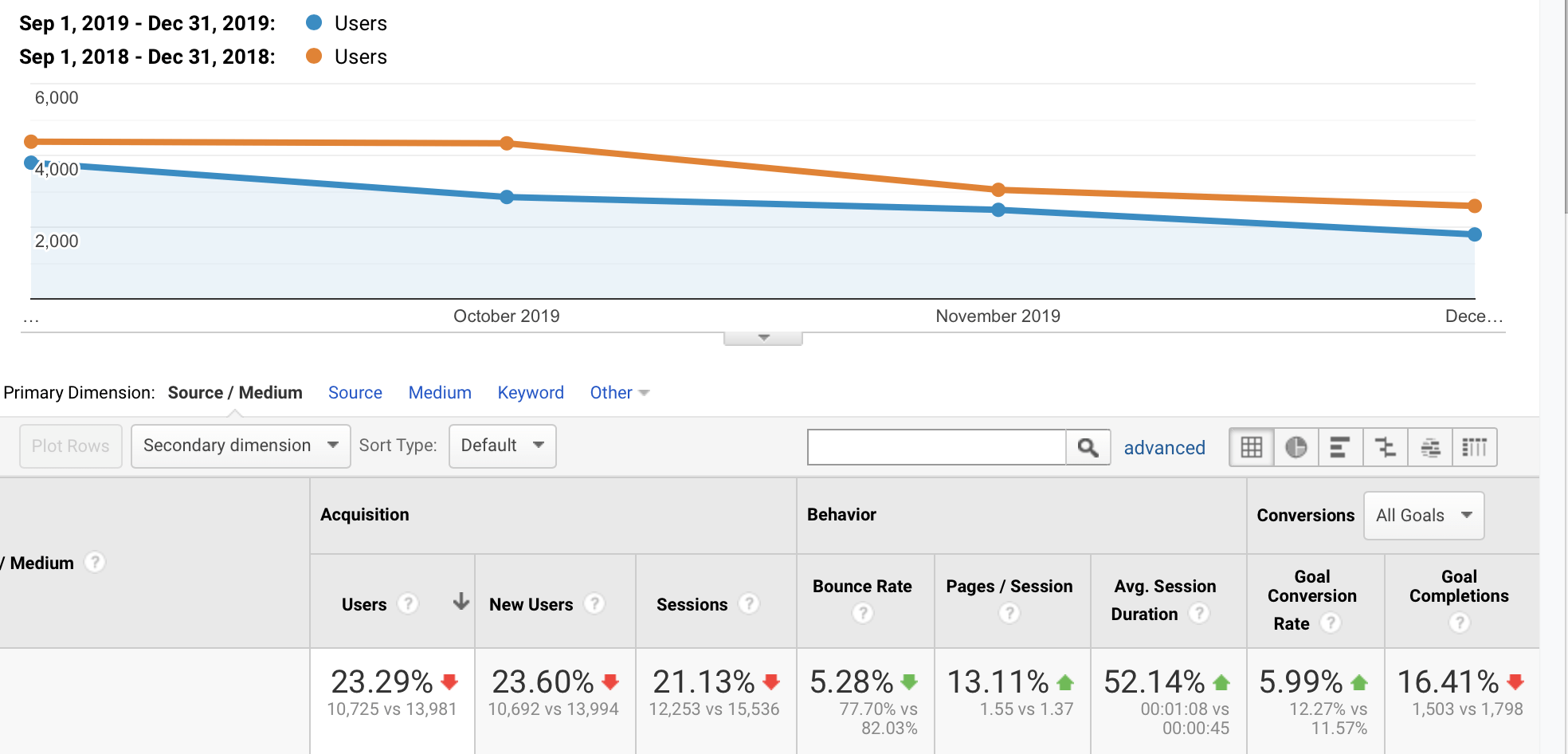 Looking at a single month year-over-year, we can see the differences are massive. A 63% decrease in goal completions vs. the same time last year. As well as a 38% decrease in users and a 39% decrease in new users.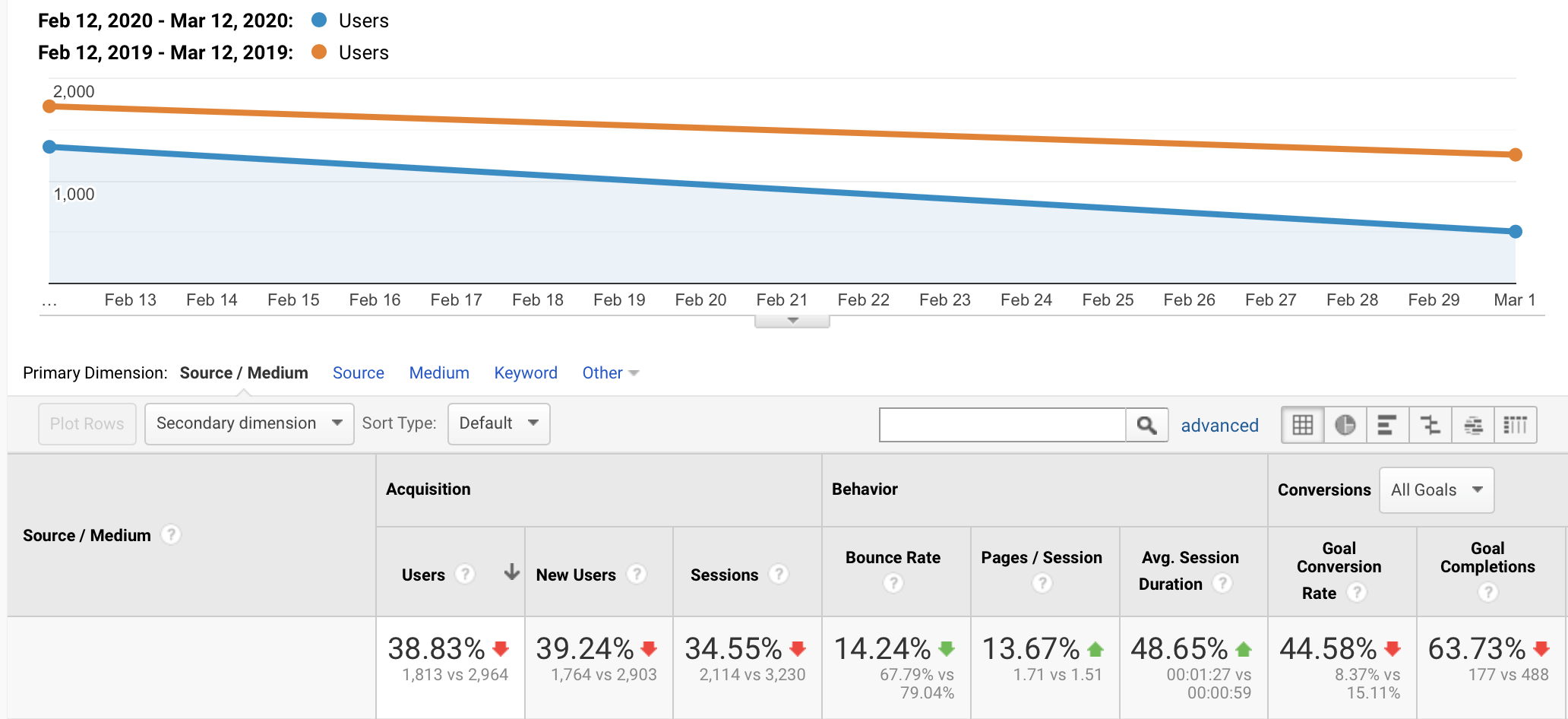 As you can see, SEO is very important to the performance of your website. 
If you would like SEO Web Design, please contact us today to get started!