Digital Audits for Your Business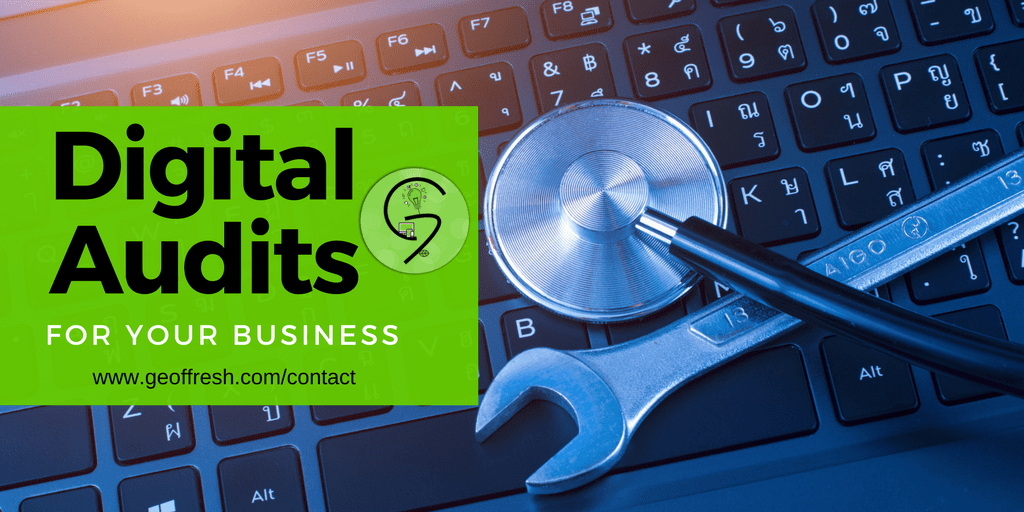 Digital audits have become a high-demand digital service over the past ten years. One of the reasons is because many times they can reveal holes in your current digital programs and efforts. 
Although they are not impossible for a regular person to do, the biggest obstacles businesses face in auditing their current digital efforts (or the work of their agency or consultant's work) are:
Related Articles
Why Marketing Is Not A Dirty Word
Why marketing is not a dirty word It's not the first time that I've come across a piece of writing online that in some way bashes marketing, but...
Geoffresh Walks In 2017 Tinley Park Holiday Parade
2017 Tinley Park Holiday Parade of Lights December 3rd, 2017 the twentieth Annual Tinley Park Holiday Parade of Lights took place. The culmination...
time
lack of familiarity with the subject
lack of tools for auditing
lack of familiarity with tools for auditing
bandwidth issues
budget
What you need is a set of fresh eyes to identify and capitalize on growth opportunities, and a team that will consult with you to get the momentum back into your business.That's why it's important to invest in an objective third-party agency or consultant to do a digital audit.
Digital audits can be as complex as you need, but we've found that the most useful audits are focused, structured based on your goals and business objectives. 
These are a few of the types of digital audits we do most frequently:
SEO Audit
Google AdWords Audit
Digital Footprint Audit
Social Media Audit
Content Impact Audit
Audience Audit
Audit of Current Digital Programs
Many audit requests from clients are a cross between two or more focus areas. 
Related Articles
"Is Social Media A Waste of Money?" Put To The Test
Is Social Media A Waste of Money? Background This past summer we almost lost the love of our life, our puppy Sammie. You can read about how she...
2017 Discover Tinley Park Expo Review
A Review of Highlights from this year's Discover Tinley Park Expo    Founders Geoffrey and Stephanie Pyrzynski are all smiles at the Tinley Park...